Award Winning Signature Gold. Notes of creamy chocolate and caramel. Honey sweetness.
Perfect way to kick start your morning routine with milky or black coffees.
Wild West Coffee Plan Benefits 🔰
We hope you've been enjoying your recent purchase from us. Cancel, pause, skip or modify your order any time from your own dashboard.
You're in Control

15% OFF Each

Month

Membership Concierge

Membership-only Swag
"Sublime coffee, it's a family and friends favourite and the one people ask for when they visit our house! Highly recommend it." - Thanks Aqib!
Great Taste Award Winner 2020 & 2021 - carefully selected speciality coffee from Brazil. Hand-roasted and date stamped to order, one of our most popular coffees. Fresh, fresher freshest! 
Crafted in our Great Taste award winning roastery, safe from flavour-destroyers, 100% Arabica beans for a dream brew
Ethically and direct sourced from a Rainforest Alliance Certified farm - quality strong coffee beans to WOW You and Your guests (Better than fair-trade and organically grown).
Drink Better Coffee. Unlike the competition, we never compromise on quality, service or your personal happiness. Our coffee is no different in delivering more smiles per cup. The search for coffee that makes you smile ends right here.
Safely packaged in resealable/recyclable bags, to stay fresher for longer. 
Fast delivery on all orders with same day dispatch via Royal Mail. 
100% satisfaction promise. Taste, service, and hundreds of satisfied customers prove you can choose Signature Gold with confidence. This time tomorrow you could be enjoying the coffee experience of a lifetime.
What you need to know:
Delicious creamy chocolate notes, characterised by a smooth honey sweetness and hints of nut, Bourbon biscuit and praline.
Strength 3.5/5, smooth, well-rounded medium to dark 
Acidity - Soft
Body - Full
We plant a tree for every order
The Main Farm:
OWNERS – Gabriel e Flavia & Lancha de Oliveira
ALTITUDE GROWN – 1270 meters above sea level
LOCATION – Cristais Paulistas, Alta Mogiana, Sao Paulo
PROCESS – Natural process, sun dried, 30 days resting period
CERTIFICATIONS - Rainforest Alliance Certified and Alta Mogiana Specialty Coffee Association (AMSC)
VARIETY – Catucai
SCA SCORE - 85 - regarded as "Excellent"
This 'Fazenda' is owned and run by the Oliveira family in the Alta Mogiana region, Brazil. They focus on producing specialty and high end coffees from this region with acute attention to all areas of production, including the environmental and social aspects of their business.

The farm is relatively small with 20% constituting of a protected nature reserve for the native species. The farm is fertilised with organic compounds as the main source of amino acids, to increase the productivity and quality of crops. 

On the farm they specialise in one variety of coffee - Catucai. As well as planting eucalyptus and mahogany trees to provide shade and a useful source of timber.
The sweetness of the coffee is a result of the coffee varietal Catuai and the natural process. The sugar in the coffee cherry is passed on to the bean as the coffee cherries are dried together, removing the husks just after the coffee reaches a perfect humidity of 11.5 %. Notes of brown sugar make it naturally sweet. A hint of maple syrup can also be detected. 
I'm Perfect for:
Great for bean to cup, filter coffee machine, or ground for a French press or moka pot. Works well with or without milk. Also excellent with Oat milk.
100% Arabica
Resealable bags (apart from 1kg), once opened, consume within 3-4 weeks for best results and before best before date. 
Best kept in cool dry environment. 
FAQ's:
What strength is the coffee?
We advise this coffee to be a strength of 3.5 out of 5. Punchy but not over powering. 
Are the beans oily? 
No, these beans are not oily, if you have particularly sensitive machine/equipment, these beans should be perfect. 
Where to store the coffee?
We recommend storing the coffee in a cool, dark, dry cupboard, before you open them. Once opened, reseal the bag and they can be safely stored in the freezer. They can also be used straight from the freezer - just make sure they are in an air-tight container. 
How many coffees do the bags serve?
250g - serves 13-15 coffees. 500g - serves 26-30 coffees. 1kg - serves 55-65 coffees. We recommend one kilo bag to serve 2 coffees a day, to last a month.
What's the best before date?
All our coffees are roasted to order, meaning they couldn't be fresher. We advise a best before date of 6 months from the order date. 
Shipping
POSTAGE COST
For U.K. mainland we operate a free shipping service for all orders over £15, £1.95 for orders below £15. For international shipping please email us for a quote - hello@wbroast.co.uk.
WHEN WILL MY ORDER BE DISPATCHED?
We work on all orders in the order that we receive them. Normally we dispatch parcels either the same or next working day. However during very busy periods it may take an extra day or two for your parcel to be dispatched.
All our parcels are sent using First Class Royal Mail or DPD delivery service. If you are out when the parcel arrives, it can be collected from your local Royal Mail depot. 
​Please contact hello@wbroast.co.uk for any returns. Returns can be made for any unsatisfactory products and full refund given. Please contact us within 5 business days of receiving your purchase to allows us to look into your query.
If your order becomes damaged in transit, we ask for you to provide photo evidence so we can process the refund through Royal Mail. 
Brilliant coffee for espresso
Received very freshly roasted, within just a few days. Delivery time was prompt too. Great for use in an espresso machine - a brilliant everyday coffee. Only one challenge: it would be helpful to know if the packaging is recyclable, and if not to make it so.
Quality coffee
Will be ordering again very nice coffee
First Time and it's Gold
A wonderful introduction to the coffee of this company. Recommend by friend, who said it's a 'good un' and he was spot on. Will be returning for more.
Best coffee in a long time
Signature gold coffee was excellent in my bean to cup machine. I will definitely be buying this again. I bought 2 x 1kg on this order and they came in 4 x 500g bags with a fantastic resealable pouch, freshness will be easily maintained. Roasted 2 days before delivery. Better go I need another delicious coffee
Perfect coffee for us
For us, this coffee is the perfect balance of strength and taste. I ignore the usual hyperbole from coffee companies where they state the coffee has hints of this, that and the other as invariably they just don't. The description of this coffee says it has hints of chocolate and it actually does! Even my untrained palate can detect it. Wonderful stuff.
Liquid GOLD
After around 3 years of drinking Nespresso pods of all varieties, this Christmas I opted to upgrade my coffee making capabilities with the purchase of a bean to cup machine.
After a little bit of research I came across the West Berkshire Roastery and jumped into a bag of Signature Gold...
My Frustrations were not with the coffee but rather my calibrating abilities with a new machine. After wasting copious amounts of extremely sour and bitter tasting coffee... just trying to work out the grind and ratio settings, the intricate world of bean grinding and flavour extraction were beginning to take shape.
When I finally managed to get my machine tight I produced what can only be described as Liquid GOLD! the flavour notes are incredible and the wonderful aftertaste lingers for a long duration which leaves you with an extremely pleasant experience and feeling of wanting more!
Fresh nice and tasty
Really nice fresh and tasty thank you
Amazing crema
Reviewed this amazing blend on my YouTube channel . Great taste , great shot of esspresso or perfect in your latte or cappuccino .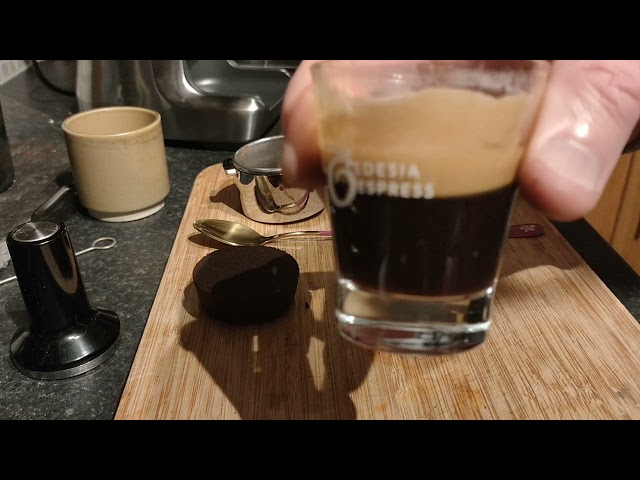 Coffee
Arrived quickly,really tasty great for first thing in the morning