Wholesale coffee beans
Are you a cafe owner, manager or barista? Fill the form in below and we'll get back to you with a sample of our coffee. 
WOW your customers with our Double Great Taste Award Winning Coffee, delivered to your business for FREE, at unbeatable prices. 
FRESHLY hand-roasted to order, speciality grade coffee, so you can rest assured you'll be serving the best coffee in town! 
Our promise: You won't find a higher rated coffee for a better price, anywhere on the net!
A note from our founder, Alex:
Supplying the wholesale hospitality sector is one of my favourite parts about running the roastery, working with like minded business owners and hearing the feedback from their customers, reinforces why I started WBR in the first place.
​So if you're looking for a coffee roaster near you, we can supply all your wholesale coffee needs in the Newbury, Thatcham, West Berkshire & surrounding areas with free UK wide delivery. 
WE DON'T SHROUD OUR PRICES IN SECRECY. SIMPLY ORDER ONLINE BELOW. 
- No accounts or lengthy sign up forms.
- Fast & Free Delivery.
- Exclusive coffee.
- Easy to brew, for consistent, quality espresso every time, that will have your Barista jumping for joy.
Organic Signature Gold
For many, speciality coffee is synonymous with light roasts. Those people could be missing out on the chocolatey charms of darker roast espresso.
Dark roasting, common in southern Italy, is a deep, demanding roast, that is truly an art to achieve. It challenges even the most experienced roaster, relying on their sharp senses to develop the bold flavours. 
Watching, listening, and smelling the beans throughout the long, slow process, our roasters wait patiently for the brief moment when these premium beans meet medium to dark roasted perfection.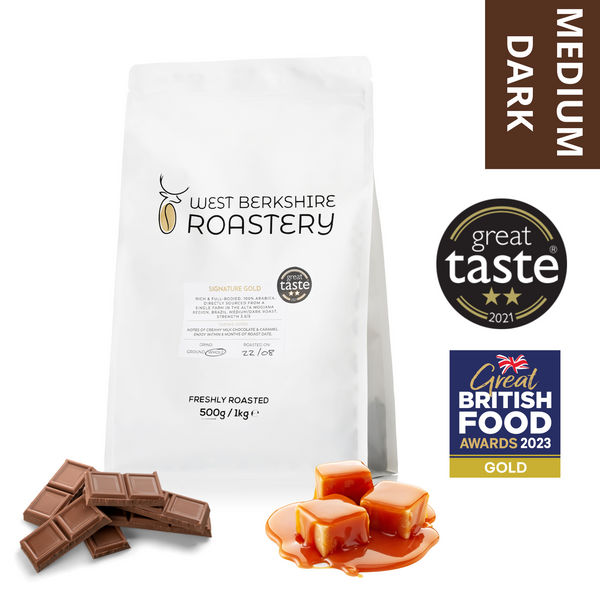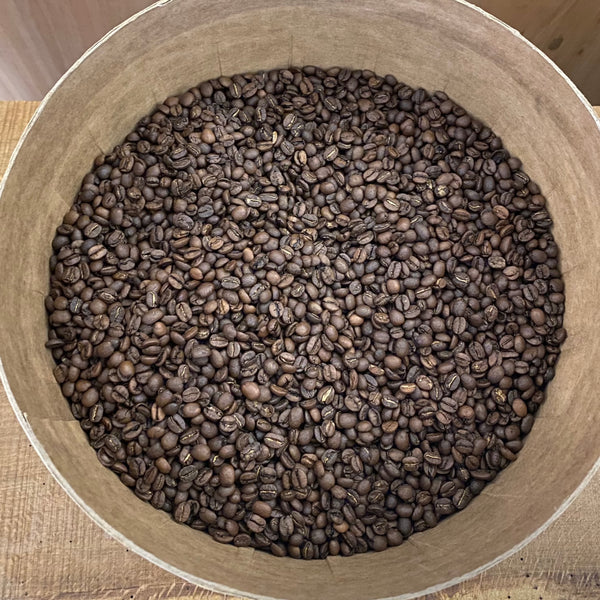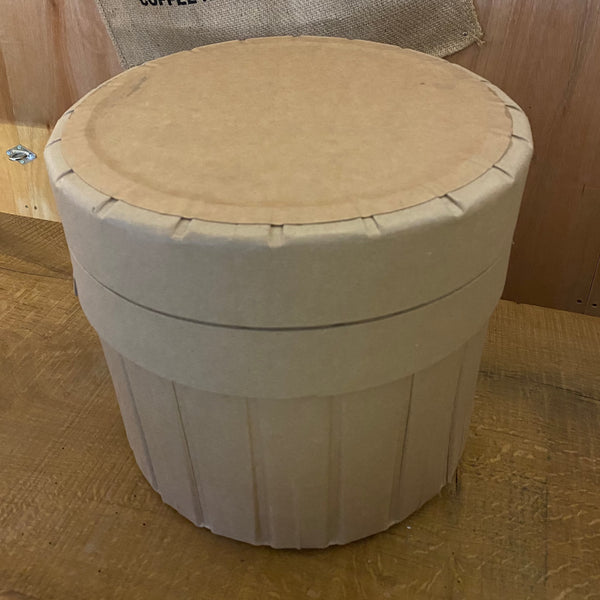 Interested in wholesale coffee? Send us your details to receive our sample pack
Business FAQ's
Business FAQ's:
​When will I receive my delivery?
Your coffee beans will be roasted to order, and posted the next working day, usually via DPD or Royal Mail. Fast & Free. 
What coffee machine should I use for my cafe?
Consider Astoria coffee machine if you are looking for the traditional barista style for your cafe, they are competitively priced and very reliable. If you like bean-to-cup style machine consider WMF or Franke machines, both extremely reliable but can be on the expensive side, however we believe this is more than offset by the coffee they produce and easily programable settings.
What are the best coffee beans for my business?
Great question! Of course our Runner Bean coffee beans! We have worked tirelessly to serve up an amazing wholesale coffee blend at extremely competitive prices, aimed at the hospitality industry. It doesn't stop there... Get in touch if you require a free sample!
What's the best payment system for my cafe?
If you are just starting out this can be a minefield for your business. Consider Zettle or Square. 
These guys offer up a great solution via tablet and card machine for small and start up businesses. 
​How many grams of coffee is in an espresso?
Anywhere between 9-10 grams for a single shot, 18-20 grams for a double shot.
​What's the best dairy alternative to fresh milk?
Theres a new kid on the block! We love and have had great feedback with Oatly Barista!
​Best coffee machine for home use? 
We love bean-to-cup coffee machines for home use - Delonghi, Sage, JURA, Siemens and Miele all put in a great shift! Keep an eye peeled for machines that produce 9 bar of pressure for espresso, anything less than this may not produce such good extraction of the coffee. 
How long does coffee last and stay fresh for?
Freshly roasted coffee beans stays fresh for up to 3 months if stored in an airtight container and in a cool, dark place.